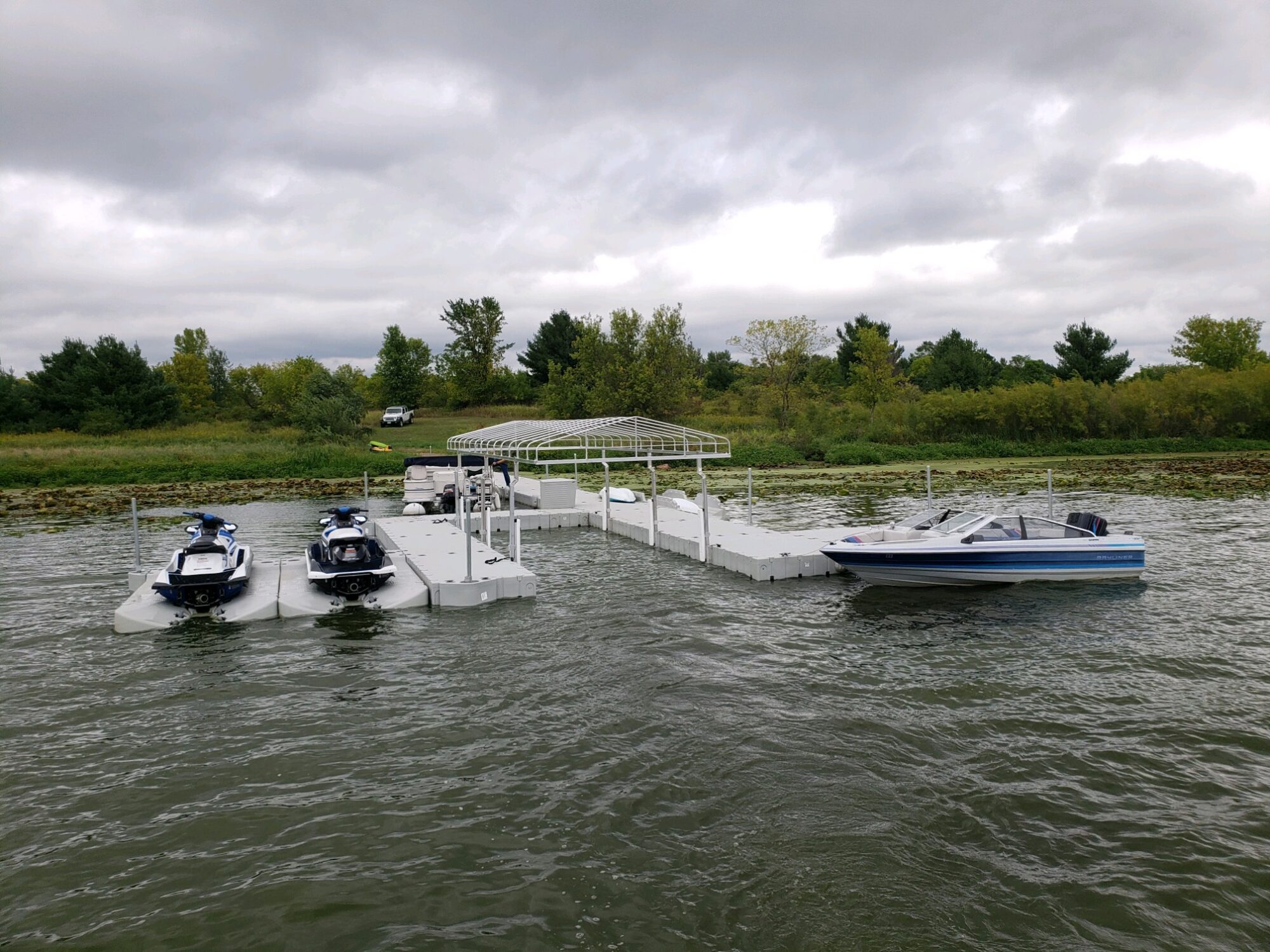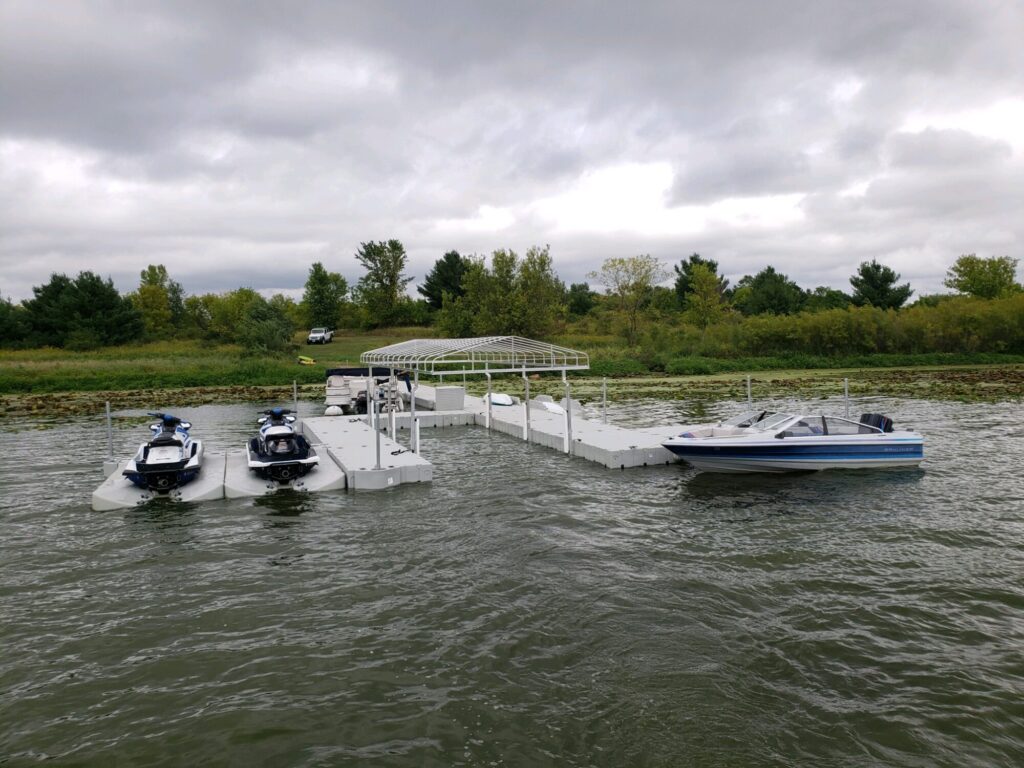 Versatile Dock Solution
EZ Dock works well for a wide variety of applications.  Private homeowners, lakeshore and condo associations, municipal applications, as well as commercial applications.
EZ Dock sections are of one-piece design, and their underside utilizes indentations or pylon areas.  These pylons create a suction or vacuum effect, which enhances the stability of the floating system.  When you walk from one end of a EZ Dock system to the other, you receive the benefit of both the "up" buoyancy flotation as well as the suction or "pull down" effect.
Environmentally Friendly Docks
EZ Dock is also an environmentally friendly product.  The sections can be recycled into new poly products for the marketplace.  The inside of an EZ Dock section does not contain any additional foam or fillers. The couplers which join the sections together are created from recycle rubber material.  With its coupler or pocket design, we can attach a variety of accessories to the sides of the EZ Dock.  Hardware connectors are used to attach these accessories.
Because each unit is buoyant, EZ Dock creates an amazingly stable, wind and wave resistant surface. The dock tends to span the crests of waves instead of "riding" them like floatation drums with attached decking. Sections will float in less than 2" of water and the unloaded freeboard height is 13 inches (Freeboard is described as distance from top of the dock to top of water).
A variety of dock sections and lifts, coupled with an extensive selection of anchoring systems and accessories, make it easy to customize the system to suit your application. Later, configurations can be easily changed or added to as lives and ideas change. With a modular EZ Dock on your waterfront, you will spend more time enjoying safe, convenient, attractive water access - and less time and money on maintenance.
Color influences the temperature of your dock. Dark colors absorb and hold heat. Light colored objects reflect heat, so they stay cooler. Not only is this important to bare feet, but it also protects the dock as well. Sections and components are available in beige or gray color options.
EZ Dock is Great for River Applications!!
Marine Dock and Lift uses the EZ dock system almost exclusively for river applications. By using stiff-arm anchoring or vertical anchor posts, and long gangways, the floating EZ Dock is ideal for areas where water fluctuation is high, (5ft. to 9ft. is easily managed) and currents are swift.

Dock Sections
The innovative flotation design of EZ Dock harnesses suction and compression to enhance stability. This is achieved by utilizing patented hollow chambers on the underside, providing more than mere flotation. Upon stepping on an EZ Dock, the contrast in stability is immediate.
EZ Dock is built with exceptionally sturdy and thick walls for ultimate strength. Its unique chamber design facilitates dock sections to maintain stability while smoothly adjusting to fluctuating water levels, even in turbulent conditions.
Offered in various shapes and sizes, the sections of EZ Dock can be assembled to suit any need, from straightforward private homes to intricate marinas and platforms. Want a design adjustment? EZ Dock sections can be easily rearranged or augmented at any moment.
The integration couplers allow each section to operate autonomously under high-stress scenarios while maintaining rigidity. The polyethylene build of EZ Dock ensures superior modularity, buoyancy, functionality, and safety.
| Image | Section | SKU | Dimensions | Capacity | Description |
| --- | --- | --- | --- | --- | --- |
| | 40" Baby Dock | 204060 | 40"W x 60"L x 15'H | 1,000 lbs | This 40" x 60" polyethylene dock section is durable, slip-resistant and low maintenance with 1,000 pounds of weight capacity. |
| | 40" Dock | 204010 | 40" W x 10'L x 15" H | 2,000 lbs | This 40″ x 10′ polyethylene dock section is durable, slip-resistant and low maintenance with 2,000 pounds of weight capacity. |
| | 60" Dock | 206010 | 60" W x 10 'L x 15" H | 3,000 lbs | This 60″ x 10′ polyethylene dock section is durable, slip-resistant and low maintenance with 3,000 pounds of weight capacity. |
| | 80" Dock | 208010 | 80" W x 10 'L x 15" H | 4,000 lbs | This 80″ x 10′ polyethylene dock section is durable, slip-resistant and low maintenance with 4,000 pounds of weight capacity. |
| | Half Hex Dock | 260120 | 60" W x 10 'L x 15" | 2,000 lbs | EZ Dock adds even more design versatility with our half-hexagon dock option. |
| | Corner Gusset | 300501 | 34"W x 47"'L x 6"H | | Polyethylene corner gusset adds deck surface and additional stability to dock fingers when needed. |
| | 100" Dock | 208008 | 100"W x 80"L x 15" | 3,100 lbs | This 100″ x 80" polyethylene dock section is durable, slip-resistant and low maintenance with 3,200 pounds of weight capacity. |
| | Low Profile Dock | 158010 | 80" x 120" x 8" | 1,900 lbs | The new low profile dock is 8" tall and has a freeboard height of 5-1/2" when unloaded. This meets current rowing association design specs. It will also serve as a great swim platform with the lower freeboard height to aid in boarding the dock from the water. |
| | Tri Dock | 300503 | 58-1/8" x 58-1/8" x 80-13/16"x 14-5/8" | 750 lbs | The Tri Dock gives you the ability to create an unparalleled variety of new dock configurations. The inclusion of a pocket allows this new corner to double as a pipe and deadweight bracket for additional anchoring with 750 lbs. weight capacity. |