Residential and Commercial Sales of Docks, Boat Lifts, Canopies and Accessories
Marine Dock & Lift - Minnesota
Lakeshore Equipment for Residential and Commercial Customers
Our primary focus is the sale of lakeshore equipment to residential, commercial, and municipal customers. To aid in the sale, we offer site evaluations at no cost. A representative from Marine Dock and Lift meets with the prospective customer at the site and makes suggestions for which dock or lift system would best match the conditions at hand, while keeping the customers preference in mind. Written bids along with scaled layouts can be sent for review.
Check out what Ron Schara has to say about Marine Dock & Lift
We offer delivery and installation crews for new purchases. Our typical delivery range is up to approx. 4 hours radius of Center City, MN. Timing is set in advance. Charges for services vary, depending on distance traveled and site conditions. We have several work boats for conditions where it is best to deliver via the water, versus across the land.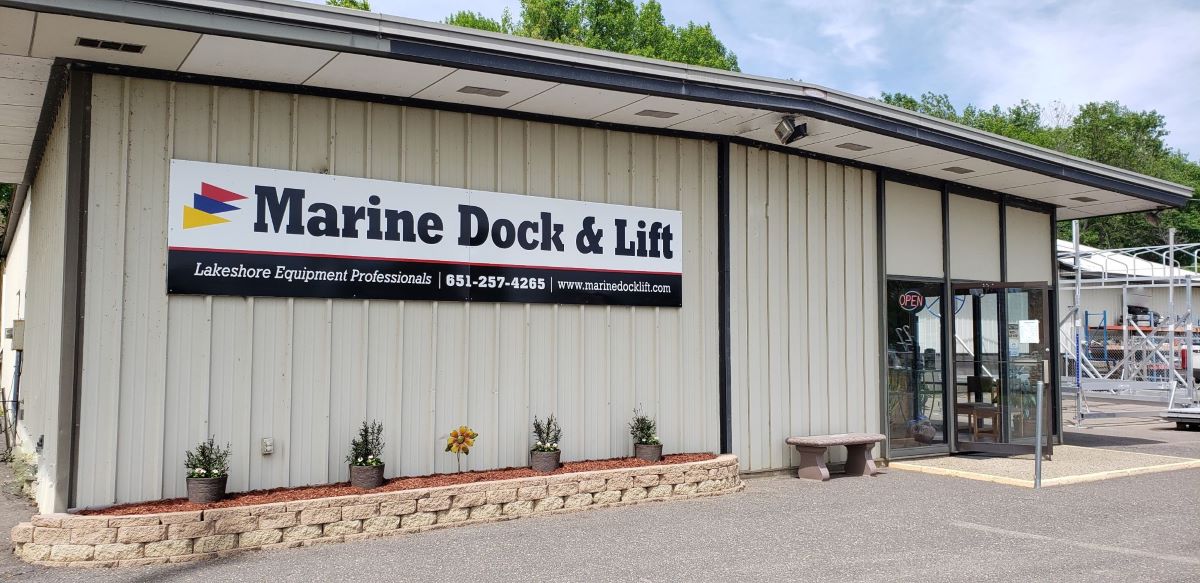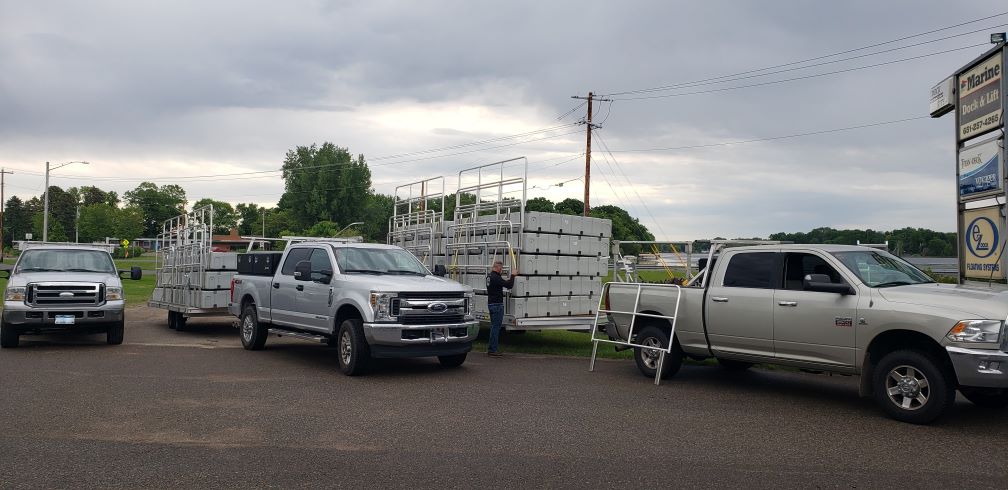 Core Services
Site Evaluations : We meet at the site, determine, and plan the best system for the conditions.
Experienced Delivery & Install Crews : We bring out your purchase and make sure it is set up properly.
The Right Equipment for the Right Job : We have various sized equipment, for various jobs, this keeps costs reasonable.
Courtesy Trailers : Haul your purchase home with one of our trailers.
Ongoing Install and Removal : Plan ahead for scheduling your removal or installation.
Parts : We are an authorized dealer for Dock Rite, EZ Dock, Lift Tech, ShoreMaster, ShoreStation, Smarte Jack, Titan Decking, and Voyager docks. We stock many parts for all the manufacturers that we represent. Please call ahead and if we do not have it, we will order it in for you.
Service and Repair
Aluminum welding, lift cable replacement, and drop off location for canopy cover repairs.
Ongoing installation and removal services are offered on a limited basis. Customers who have purchased thru Marine Dock and Lift receive priority.
We inventory numerous winch boxes, cables, pulleys, pipe, dock legs, foot pads and other replacement parts for docks and boat lifts. Some parts are interchangeable with other manufacturers brands.
We offer mobile and service shop aluminum welding for repairs of lifts and docks. Our service shop has the capability to repair aluminum, fabricate custom brackets, (where applicable) and produce custom gangways. Service shop repairs of docks and boat lifts are completed in late summer, late fall, or the winter months. Spring months are set aside for deliveries and installations of new sales.
Training
Marine Dock & Lift is an active participant in Minnesota's DNR Aquatic Invasive Species Training