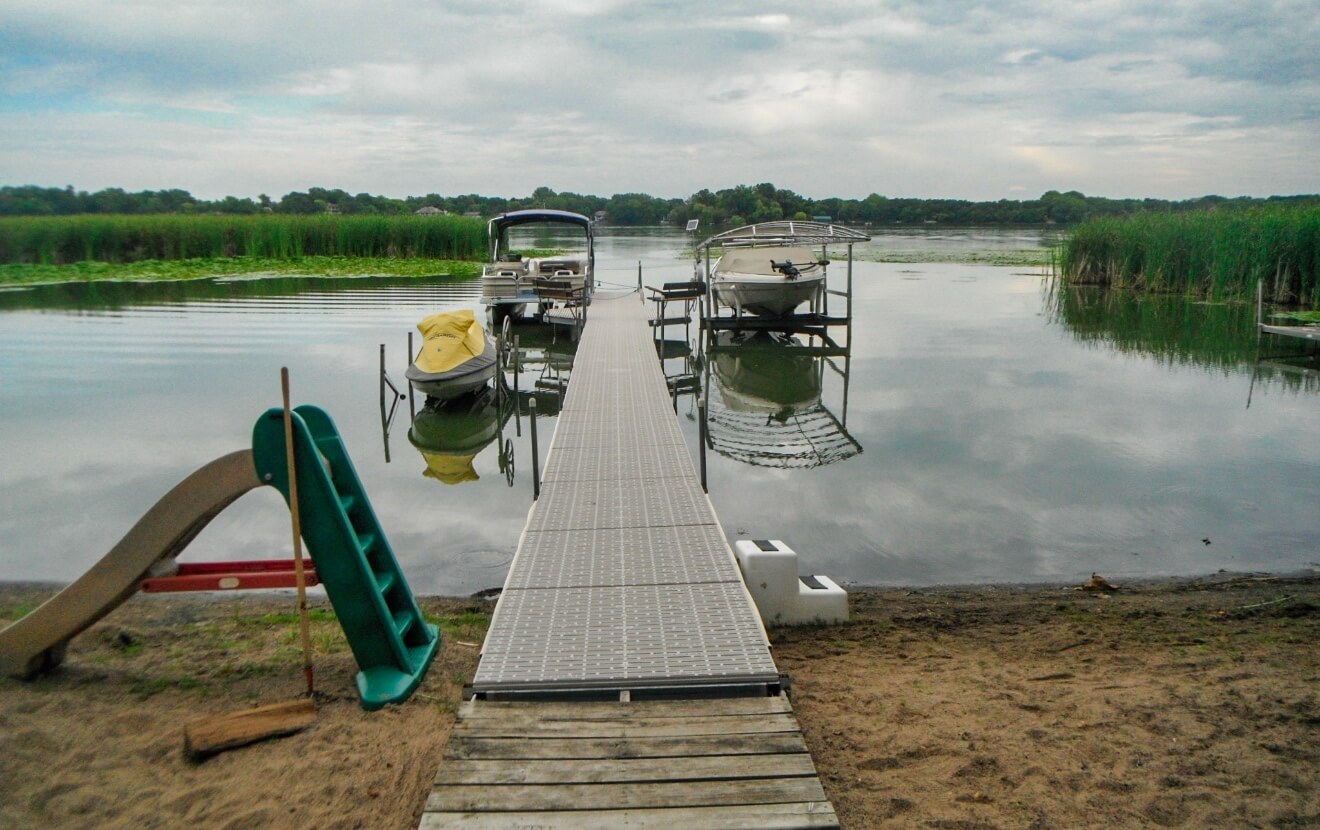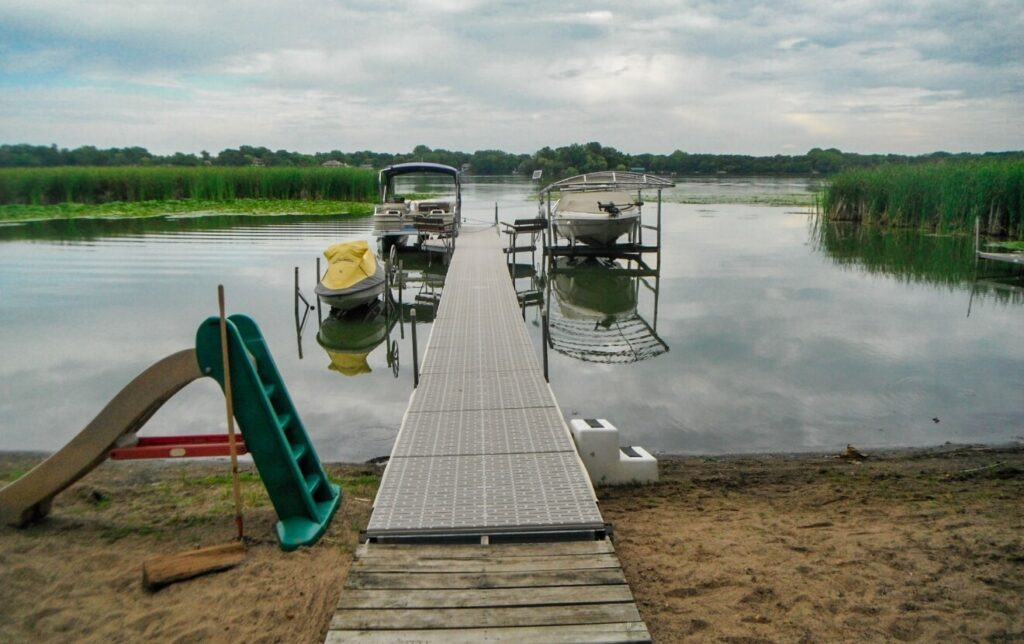 The ReDeck process. How to get an accurate quote. With the ReDeck process, we use Titan vinyl decking. We have found it to be a material that is cost competitive for the quality of the material. It is available in several styles, colors, and widths, so it can be used on a wide range of dock frames and applications in the market.
Q. I want to find out about installing new decking onto my existing dock frame. How does the quote process work?
A. We need several pieces of key information to properly present a quote, as there are numerous variables associated with each dock system.
Some of the information we look for:
1. How wide is the existing dock frame?
We start with an outside-to-outside dimension of the current dock frame. This dimension should be within 1/8 of an inch.  We also need to know the internal width of the dock frame, or if we know the dimension of outer dock frame tubing, we can calculate the internal dimension.
2. Does the current dock frame have a lip that sticks above the framework where the panel will rest?
This could be a thin lip, or it could be rather wide. If the framework has a lip, we need the internal dimension from inside the lip to the opposite inside lip of the dock frame. Some dock frames have no lip, the edge of the Titan panel will be visible. "Exposed edge" is another terminology for when panels are visible.
3. Are there any stringers running the length of the framework in the dock section?
Depending upon the age and brand of the dock system, it may have no stringers, one stringer, 2 stringers, or in some cases as many as 3 stringers. Depending upon how many stringers are in the system, this may allow for the use of non-reinforced Titan vinyl decking.
For optimum performance, if the system has lineal length stringers at least every 16" one may use the NON reinforced Titan Vinyl decking. If a lineal length stringer is spaced at 24" on center, then we suggest the use of reinforced decking. If over 24", then we suggest adding a stringer down the length of dock frame.
4. What is the length of the current dock system, to include any "L" s or T's? The length of each section of dock?
Section lengths can vary from 4 to 20 feet in length for a "typical" dock section. This would be an outside-to-outside dimension. Again, planning for the frame width construction on each end.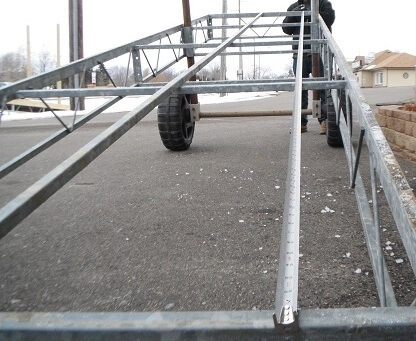 5. Are the panels to be permanently installed?
Or are they planning to be removable for ongoing seasonal installation. If permanently attached, then individual boards may be purchased rather than buying in panel format.
6. The most common length panels are built for 4ft of running length.
These fit well for a typical 8ft, 12ft or 16ft length dock frames. The panels are created by use of a lightweight stringer stock underneath the panel. An average panel is made of 4 individual boards. We can build them into 5ft panel lengths, for a 10ft dock section, or 6ft length panels for a 12 ft dock section and the customer is okay with the heavier panels.
7. Would any of the panels need to be notched to fit around dock uprights?
Planning is needed to ensure that the panels are supported by the upright area, or the stringer stock that holds the panels together may need to be moved slightly for clearance.
8. What is the cost of panels?
There are numerous variables that dictate the final cost of panels themselves.
Size of panels. This includes both width, and lengths.
Are the panels non reinforced, or do they come with the aluminum reinforcements molded into the panels. There are 2 reinforcement tubes per each one-foot board!
Is any notching required or is the customer going to take care of notching panels?
Is any delivery or installation labor needed. Delivery, shipping, and installation is quoted separately from product pricing.
With the information provided above, we are then able to come up with a quote for review.
Full technical specs are available on request.
A typical 4ft x 4ft aluminum reinforced panel weighs 35#
Call Us Today at 651-257-4265 for a Quote and Be On Your Way To That New Dock Look!
Titan Deck is made from polypropylene, which is a sturdy plastic that will take everything you and Mother Nature can throw at it. Available in traditional and X-series with aluminum stiffeners.  Titan Deck boards are available in seven different sizes to fit most dock applications.
All Titan Deck products come with UV protection which will prevent significant fading. Titan Deck will also handle any wild Midwest weather changes. All Titan Deck materials have been tested in temperatures ranging from -25°F to 120°F.
Strong, durable & maintenance-free.
Never needs painting or staining.
Not harmed by gasoline or other household chemicals. |
Allows water, debris & sunlight to pass through while keeping vegetation alive.
Made of environmentally safe material.  Will not harm the eco-system of your lake.
UV-protected to prevent fading.
Limited Lifetime warranty